---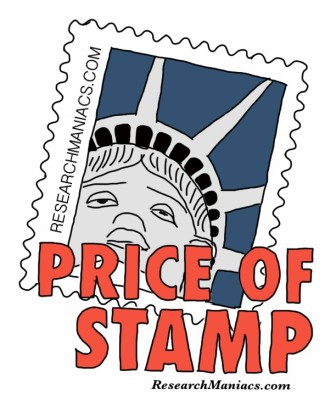 You have to come to the right place if you are looking for past, current, and future stamp prices for first class letters (one ounce) and postcards.
Check out the current postage stamp prices below. The prices are prices for sending first class letters and postcards within the United States. See also Historical Prices further down.
55 cents
First Class Letter Price
Domestic
35 cents
Postcard Price
Domestic
For past postage prices of First Class letters and postcards please see information below.
January 27, 2019
First Class Letter Price increased to 55 cents
January 21, 2018
First Class Letter Price increased to 50 cents
January 22, 2017
First Class Letter Price increased to 49 cents
April 10, 2016
First Class Letter Price decreased to 47 cents
May 31, 2015
Postcard Price increased to 35 cents
January 26, 2014
First Class Letter Price increased to 49 cents
January 26, 2014
Postcard Price increased to 34 cents
January 27, 2013
First Class Letter Price increased to 46 cents
January 27, 2013
Postcard Price increased to 33 cents
January 22, 2012
First Class Letter Price increased to 45 cents
January 22, 2012
Postcard Price increased to 32 cents
April 17, 2011
Postcard Price increased to 29 cents
May 11, 2009
First Class Letter Price increased to 44 cents
May 11, 2009
Postcard Price increased to 28 cents
May 12, 2008
First Class Letter Price increased to 42 cents
May 12, 2008
Postcard Price increased to 27 cents
May 14, 2007
First Class Letter Price increased to 41 cents
May 14, 2007
Postcard Price increased to 26 cents
January 8, 2006
First Class Letter Price increased to 39 cents
January 8, 2006
Postcard Price increased to 24 cents
June 30, 2002
First Class Letter Price increased to 37 cents
June 30, 2002
Postcard Price increased to 23 cents
July 1, 2001
Postcard Price increased to 21 cents
January 7, 2001
First Class Letter Price increased to 34 cents
January 10, 1999
First Class Letter Price increased to 33 cents
January 1, 1995
First Class Letter Price increased to 32 cents
January 1, 1995
Postcard Price increased to 20 cents
February 3, 1991
First Class Letter Price increased to 29 cents
February 3, 1991
Postcard Price increased to 19 cents
April 3, 1988
First Class Letter Price increased to 25 cents
April 3, 1988
Postcard Price increased to 15 cents
February 17, 1985
First Class Letter Price increased to 22 cents
February 17, 1985
Postcard Price increased to 14 cents
November 1, 1981
First Class Letter Price increased to 20 cents
November 1, 1981
Postcard Price increased to 13 cents
March 22, 1981
First Class Letter Price increased to 18 cents
March 22, 1981
Postcard Price increased to 12 cents
May 29, 1978
First Class Letter Price increased to 15 cents
May 29, 1978
Postcard Price increased to 10 cents
December 31, 1975
First Class Letter Price increased to 13 cents
December 31, 1975
Postcard Price increased to 9 cents
September 14, 1975
Postcard Price increased to 7 cents
March 2, 1974
First Class Letter Price increased to 10 cents
March 2, 1974
Postcard Price increased to 8 cents
May 16, 1971
First Class Letter Price increased to 8 cents
May 16, 1971
Postcard Price increased to 6 cents
January 7, 1968
First Class Letter Price increased to 6 cents
January 7, 1968
Postcard Price increased to 5 cents
January 7, 1963
First Class Letter Price increased to 5 cents
January 7, 1963
Postcard Price increased to 4 cents
August 1, 1958
First Class Letter Price increased to 4 cents
August 1, 1958
Postcard Price increased to 3 cents
January 1, 1952
Postcard Price increased to 2 cents
July 6, 1932
First Class Letter Price increased to 3 cents
July 1, 1928
Postcard Price was 1 cent
July 1, 1919
First Class Letter Price increased to 3 cents
November 2, 1917
First Class Letter Price increased to 2 cents
July 1, 1885
First Class Letter price was 2 cents
---
---
Copyright
|
Privacy Policy
|
Disclaimer
|
Contact