Family Car Window Stickers
---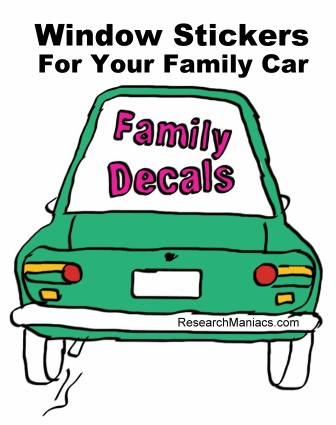 Family Car Window Stickers decals are fun and makes a statement!
What are Family Car Window Stickers?
Family car window stickers are stickers or decals that you peel and stick to your rear car window. They are a fun way to individualize your vehicle and represent each member of your family. Typical options include mom, dad, children and family pets. They are usually white outlined stick figures, because white sticks out best on the car window. They can be simple stick figures or can be dressed and accessorized to show hobbies and interests. Some come packaged with whole families, others can be purchased individually. It's easy to find something to represent today's diverse families.
Of course, these stick figures will not look exactly like your family members, but dad looks like a man, mom looks like a woman, girl like a girl, and so on. And there are many age options for children (baby, toddler, kid, teenager). Don't forget about your dogs, cats, birds, hamsters, mice, goldfish, rats and even stuffed animals. Yes, you can have them custom made to fit your family!
Why should I get Family Window Stickers?
You'll be able to tell which car is yours! How often are there other vehicles that look just like yours in the car line or parking lot? Now you and the kids will be able to pick yours out of the bunch and not feel silly walking up to the wrong car.
Family Window stickers are fun! Doesn't it put a smile on your face when you see someone else's window sticker family? Kids think they are cute and funny and they allow both kids and adults to express themselves to the world. See below for ideas on how to personalize your family.
Family Car Window Sticker Ideas
Individualize your Family
What are your hobbies and interests? How do you want to be portrayed? With a briefcase, tennis racket, golf club? With a soccer ball, bike, or leotard? Are you sports fans, Disney fans or Star Wars fans? Do you want to hold a guitar, surfboards or fishing poles? The options are endless for expressing who you are.
Are you passionate about a special cause? With a little creativity, custom family window stickers allow you to promote a unique interest or bring attention to a special cause that you are interested in. For example, your stick figures could wear recycling signs or something to promote your faith or organization.
Funny Theme Based Family Window Stickers
Maybe you prefer cute or funny stickers where the people in the family are replaced by monkeys, flip-flops or feet? Or maybe a zombie family or monster family is more your style? They have scuba families or even families on a beach in Hawaii. The options are nearly endless when it comes to representing what your family is all about.
Make it Unique to your Family
Some families like to include their last name like "The Palmers" or "The Carters" while others display the individual names of the family members next to each figure. Law enforcement recommends caution here. Adding names may provide information about you or your child to predators, possibly making it easier for them to approach you or your child by name. A better idea might be to include a slogan like "The Outdoor Family", "Soccer Family" or "Beach Bums" or something like that.
Anyway, you get the idea. Window stickers are a fun, affordable addition to the family vehicle that can tell a story or promote a cause. Get yours today!
Stickersons Family
The Stickersons Family is the perfect way to put some fun on the back of your car! With 14 different stickers, you have plenty of characters to show off your family in style. The kit features 1 dad, 1 mom, 2 girls, 2 boys, 2 baby girls, 2 baby boys, 2 dogs, and 2 cats.
PS. How to apply family car window stickers
- First make sure that the window is completely clean and dry.
- Obviously you don't want to do this when it is raining, but we also recommend that you do it in the garage during mild temperature.
- Plan where you want it before slapping it on. You want it to look good, blend nicely with the rest of the car, but also you don't want it to block your view from the rear view mirror.
- When applying, start in a corner and slowly stick more and more of the sticker on. Also use a hard plastic spatula or credit card and smooth it as you go along to avoid bubbles.
---
Copyright | Privacy Policy | Disclaimer | Contact