Laura Ingalls Wilder Biography
---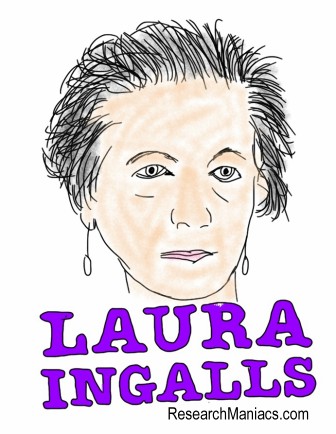 Laura Ingalls Wilder biography written by a child for children.
I remember the day that Mary, Pa and I went out to explore the Indian Camp. We were so relieved that the Indians had finally moved west and left their camp and we didn't have to be scared anymore. I asked Pa to go on a picnic and explore the camp. My wish came true! I was only 3 and I got to ride on my dog Jack's back. It was so fun! We found many different colored scattered beads and had fun playing with them. That's when we lived in the Little House on the Prairie.
Do you know who I am? I'm Laura Ingalls Wilder, known as a young pioneer and children's author. I was born on February 7, 1867 in the big woods near Pepin, Wisconsin. We moved a lot of places, starting with Missouri, then Kansas, Iowa, Minnesota and finally, South Dakota. We were poor and my Pa was always trying to find a much better place to live and a way to feed the family. That's why we moved so much.
I have 3 sisters, Mary, Carrie and Grace. I had a brother named Freddie, but he got sick and died when he was only 9 months old. Out of all the stuff that happened to us, that was the worst. We were sad for a long time.
Mostly we lived on a farm and grew our own food to eat and to sell. If the weather ruined our crop, we had no money and pa had to go find work someplace else. We didn't have cars back then, so we used a covered wagon or walked instead. It took days to get to the nearest town. We had to protect ourselves from the Indians, too. They were mad because the white people were taking their land. They had a right to be mad, but I mean seriously, we didn't do anything. We were just trying to find a place to live. We even survived the fire they set around our house. I was so scared, but happy we made it through and our house survived.
Once I had a terrible illness called scarlet fever and I had to stay in bed for a month. I was lucky though, because lots of people died from it. I didn't feel lucky though. Can you imagine not playing for a month? Just staying in bed the whole time, sleeping and taking icky medicine? It's not like we had toys to play with, though, just a corncob doll. Later I got a rag doll that I loved very much, but she sure wasn't as nice as this one!
My Ma was a teacher, and I had always wanted to be one, too. When I was just 15, some people offered me a teaching job in DeSmet, South Dakota. I was worried that I wouldn't be a good teacher, because I was too young, but my family needed the money so I said, Yes. That's when I found out how ambitious I was. I even wrote in a paper, Ambition is necessary to accomplishment, Do you know what that means? When I was told to write an essay about ambition, I didn't know what that meant either. It means if you want to be good at something, you have to really want it. So I worked hard and found out I was a good teacher! I taught for a few years until I met Almanzo Wilder and married him in 1885. We might not have gotten married if I wouldn't have made him choose between Stella Gilbert and me. He took us both for wagon rides, but I stood up for myself and said, If you take her on a wagon ride next Sunday, don't bother to pick me up. You have to choose between us! Obviously he picked me, and we got married and had a little girl, named Rose, who became a writer and encouraged me to write books about my pioneer life. She thought other people would enjoy my stories.
I started writing in 1930 and wrote nine books about all the adventures I had in my life. Rose helped me edit them and she knew some people who helped get the books published. My books became very popular and I became famous. It was a joy to receive letters from kids. They wanted me to hurry up on my next books. Being famous didn't change me, though. I still liked working hard on my farm everyday. Hard work is good for a person.
When I was around 89 I got really sick. At the Springfield hospital they discovered I had diabetes. I really desperately wanted to live to my 90th birthday at least and I did. A couple of days after my 90th birthday, on Feb. 10, 1957, I died at home. But even today, many people still enjoy reading my Little House book series and watching the TV series.
---
Copyright | Privacy Policy | Disclaimer | Contact