What is Mode in Math?
---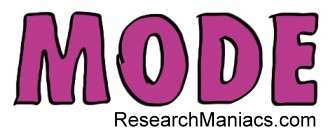 What is mode? What is the definition of mode and how do you calculate the mode? The mode is the number that is repeated the most in a set of numbers.
There is no mode formula. You simply count which number in the set you see most often.
For example, let's say you have the following numbers
2 2 4 4 7 23 23 23 42 54
In the above example, 23 is the mode because it is repeated the most times.
Note: If no number is repeated more often than others, then there is simply no mode. Remember: Mode = Most Often.
Math Help
Get help with more math here!
---
Copyright | Privacy Policy | Disclaimer | Contact