Mexican Corn on the Cob
---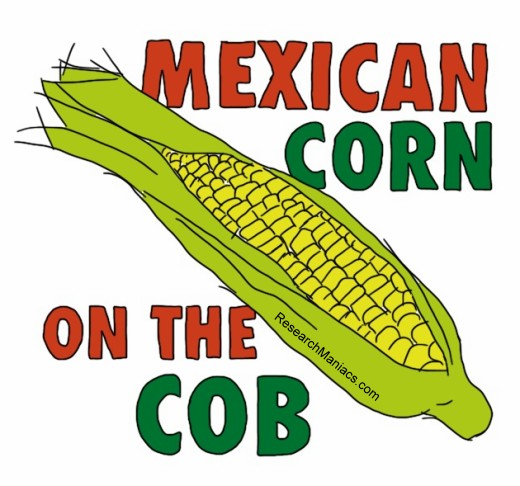 First of all, Mexican corn on the cob is called Elote in Mexico.
When we find something we like, we come back year after year. When we go on vacation to Mexico, we repeat three things: We go to the same city, stay in the same hotel, and always eat at Alberto's Elotes. You may think that Alberto's Elotes is a fancy restaurant, but that is not correct. It is a small operation on the street close to our hotel. The owner and only employee is Alberto, a street vendor that sells Elotes (Mexican corn on the cob). There are street vendors all over Mexico that sell great Elotes, but Alberto is our favorite. When we arrive in Mexico, we go to Alberto's Elotes even before we go to our hotel. It is that good!
Anyway, since we can only visit Alberto on our vacations, we decided to see if we could duplicate his Mexican corn on cob here at home. We have experimented with Parmesan cheese, Chile powder, cilantro, cayenne pepper, Tabasco sauce, ground red pepper, lemon juice, sour cream, and all kinds of other stuff. We could not get it exactly like Alberto's, because we couldn't copy the ambiance of Mexico, but we came pretty close and it is delicious!
Here is how to make Mexican Corn on the Cob, Alberto style:
We have an outdoor gas grill that we pre-heat on medium heat. Then, we grill the corn for about 10 minutes without the husk. We like to turn them pretty frequently to avoid some kernels being burned or cooked more than others.
Then we take them off the grill and immediately brush melted butter on them, followed by spreading mayonnaise on them. After that we sprinkle shredded cotija cheese all over, and top with a little salt, pepper, Chile powder and cayenne pepper.
Then, just before we eat it, we squeeze some lime on top. It is delicious!!!
We recommend that you also experiment with your favorite Mexican toppings to get your Elote just right for your taste buds. For example, some people have emailed us and said cilantro and Tabasco sauce are a must.
Enjoy and a special thanks to Alberto for our inspiration.
The above information was created by ResearchManiacs.com and may not be duplicated or copied in any way, shape or form without written consent from Research Maniacs. On this page, we answer questions like: What is Elote? What is Mexican Corn on the Cob? How to make Mexican Corn on the Cob and How to make Elote.
---
Copyright | Privacy Policy | Disclaimer | Contact