Window Sticker lookup
---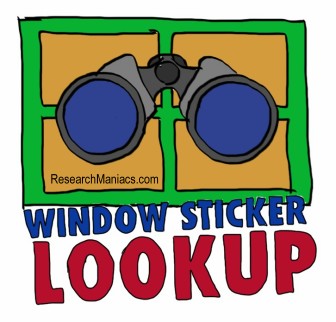 Every new vehicle in the United States comes with a Window Sticker (Monroney sticker) that lists important information about the vehicle. It list such things as what kind of vehicle it is, year built, color, MSRP (Manufacturers Suggested Retail Price), technical specifications, standard and optional equipment installed and Fuel Economy ratings.
It is very useful to obtain a window sticker. If you are a potential buyer, you can confirm that the vehicle has the features you are looking for and if you are a seller, it would be an easy way to obtain detailed information about the vehicle that you can list, advertise, or forward to potential buyer.
Please select your vehicle below to get started:

Alfa Romeo VIN

Chrysler VIN Lookup

Dodge VIN Lookup

Fiat VIN Lookup

Ford VIN Lookup

Hyundai VIN Lookup

Jeep VIN Lookup

Lincoln VIN Lookup
Maserati VIN Lookup
Mazda VIN Lookup

Mercury VIN Lookup

Nissan VIN Lookup
VIN decoder
How to decode your VIN number. Find out what your VIN means here.
To get the window sticker all you need is the
VIN
number, which is easy to find. It is on the vehicle dashboard and/or doorjamb, on the DMV registration papers, on the title, and on your insurance card.
---
Copyright | Privacy Policy | Disclaimer | Contact