Albania
Information about Albania
---

Albania declared its independence from the Ottoman Empire in 1912, but was conquered by Italy in 1939.

Communist partisans took over the country in 1944.

Albania allied itself first with the USSR (until 1960), and then with China (to 1978).

In the early 1990s, Albania ended 46 years of xenophobic Communist rule and established a multiparty democracy.

The transition has proven challenging as successive governments have tried to deal with high unemployment, widespread corruption, a dilapidated physical infrastructure, powerful organized crime networks, and combative political opponents.

Albania has made progress in its democratic development since first holding multiparty elections in 1991, but deficiencies remain.

International observers judged elections to be largely free and fair since the restoration of political stability following the collapse of pyramid schemes in 1997; however, there have been claims of electoral fraud in every one of Albania's post-communist elections.

The 2009 general elections resulted in no single party gaining a majority of the 140 seats in Parliament, and the Movement for Socialist Integration (LSI) and the Democratic Party (DP) combined to form a coalition government, the first such in Albania's history.

The Socialist Party (SP) has, in effect, boycotted Parliament since it convened in September 2009 and has called for investigations into alleged electoral fraud in the June 2009 elections.

Albania joined NATO in April 2009 and is a potential candidate for EU accession.

Although Albania's economy continues to grow, the country is still one of the poorest in Europe, hampered by a large informal economy and an inadequate energy and transportation infrastructure.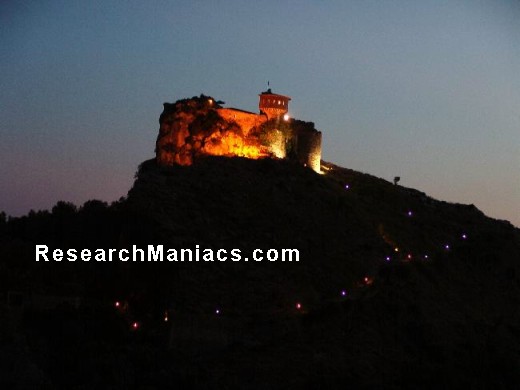 Above picture: Petrela Castle (outside Tirana) was the home of Skanderbeg's sister and part of his defense network against the Ottomans. The central tower dates from 500 A.D. and the surrounding Byzantine fortifications date from the 11th to the 14th centuries.


---
---