Argentina
Information about Argentina
---

In 1816, the United Provinces of the Rio Plata declared their independence from Spain.

After Bolivia, Paraguay, and Uruguay went their separate ways, the area that remained became Argentina.

The country's population and culture were heavily shaped by immigrants from throughout Europe, but most particularly Italy and Spain, which provided the largest percentage of newcomers from 1860 to 1930.

Up until about the mid-20th century, much of Argentina's history was dominated by periods of internal political conflict between Federalists and Unitarians and between civilian and military factions.

After World War II, an era of Peronist populism and direct and indirect military interference in subsequent governments was followed by a military junta that took power in 1976.

Democracy returned in 1983 after a failed bid to seize the Falkland (Malvinas) Islands by force, and has persisted despite numerous challenges, the most formidable of which was a severe economic crisis in 2001-02 that led to violent public protests and the successive resignations of several presidents.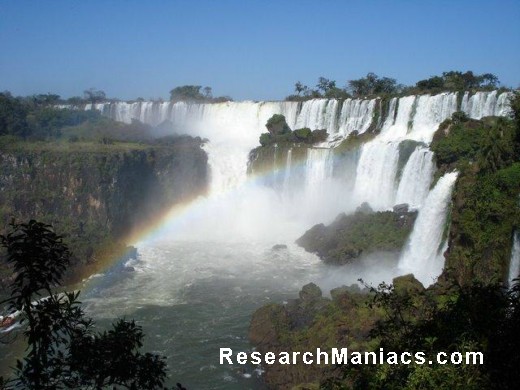 Above picture: A rainbow appears in the mist of Iguazu Falls. The falls are part of a nearly virgin jungle ecosystem surrounded by national parks on both the Argentine and the Brazilian sides of the cascades. The Iguazu River begins in Parana state of Brazil, then crosses a 1,200-km (750 mi) plateau before reaching a series of faults forming the falls.


---
---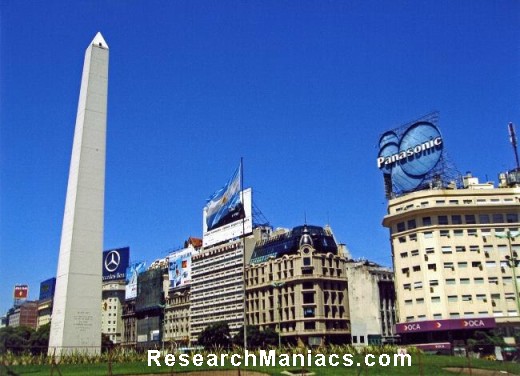 Above picture: The Obelisk (El Obelisco) along Nueve de Julio Avenue in Buenos Aires. The thoroughfare, named after Argentina's independence day (9 July 1816), is generally considered the widest avenue in the world. The Obelisk, built in 1936, measures 67 meters high (220 feet) and commemorates the founding of the city.


---