Brunei
Information about Brunei
---

The Sultanate of Brunei's influence peaked between the 15th and 17th centuries when its control extended over coastal areas of northwest Borneo and the southern Philippines.

Brunei subsequently entered a period of decline brought on by internal strife over royal succession, colonial expansion of European powers, and piracy.

In 1888, Brunei became a British protectorate; independence was achieved in 1984.

The same family has ruled Brunei for over six centuries.

Brunei benefits from extensive petroleum and natural gas fields, the source of one of the highest per capita GDPs in Asia.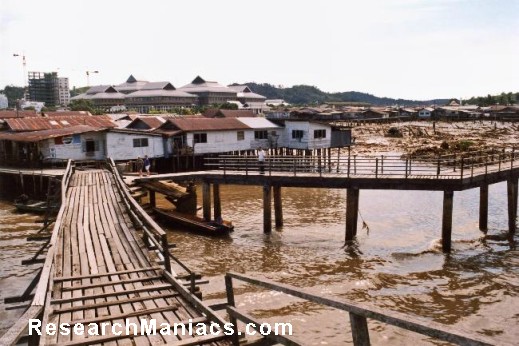 Above picture: Bandar Seri Begawan is the capital and largest city of the Sultanate of Brunei. The water village of Kampong Ayer lies within its boundaries. The village, whose houses stand on stilts, stretches about 8 km (5 mi) along the Brunei River; it is a self-contained settlement equipped with schools, police stations, clinics, a waterborne fire brigade, and mosques - all connected by walkways and bridges.


---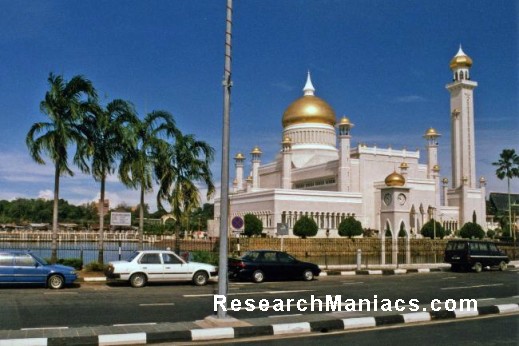 Above picture: The Sultan Omar Ali Saifuddin Mosque in the water village of Kampong Ayer is a major landmark and tourist attraction in Brunei. The structure was completed in 1958 in a mixture of Mughal and Italian architectural styles. Built on an artificial lagoon, the mosque is surrounded by lush gardens, fountains, and trees. Its most recognizable feature is the main dome covered in pure gold. From its marble minaret one can enjoy a panoramic view of the capital city.