Czech Republic
Information about Czech Republic
---

At the close of World War I, the Czechs and Slovaks of the former Austro-Hungarian Empire merged to form Czechoslovakia.

During the interwar years, having rejected a federal system, the new country's leaders were frequently preoccupied with meeting the demands of other ethnic minorities within the republic, most notably the Sudeten Germans and the Ruthenians (Ukrainians).

On the eve of World War II, the Czech part of the country was forcibly annexed to the Third Reich, and the Slovaks declared independence as a fascist ally of Nazi Germany.

After the war, a reunited but truncated Czechoslovakia (less Ruthenia) fell within the Soviet sphere of influence.

In 1968, an invasion by Warsaw Pact troops ended the efforts of the country's leaders to liberalize Communist Party rule and create "socialism with a human face.

" Anti-Soviet demonstrations the following year ushered in a period of harsh repression known as "normalization.

" With the collapse of Soviet-backed authority in 1989, Czechoslovakia regained its freedom through a peaceful "Velvet Revolution.

" On 1 January 1993, the country underwent a "velvet divorce" into its two national components, the Czech Republic and Slovakia.

The Czech Republic joined NATO in 1999 and the European Union in 2004.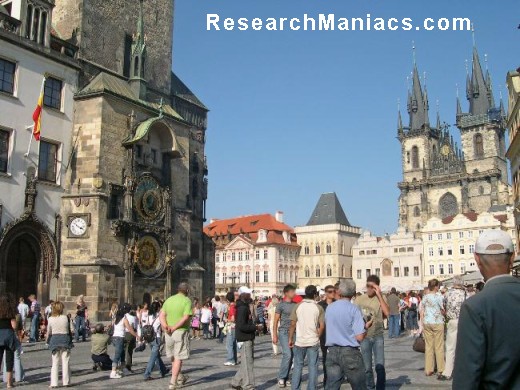 Above picture: A view of a section of the Old Town Square in Prague. The medieval astronomical clock on the Old Town City Hall dates to 1410. In the background is Tyn Cathedral, one of the oldest churches in Prague, whose construction began in the 14th century.


---
---