United Arab Emirates
Information about United Arab Emirates
---

The Trucial States of the Persian Gulf coast granted the UK control of their defense and foreign affairs in 19th century treaties.

In 1971, six of these states - Abu Zaby, 'Ajman, Al Fujayrah, Ash Shariqah, Dubayy, and Umm al Qaywayn - merged to form the United Arab Emirates (UAE).

They were joined in 1972 by Ra's al Khaymah.

The UAE's per capita GDP is on par with those of leading West European nations.

Its generosity with oil revenues and its moderate foreign policy stance have allowed the UAE to play a vital role in the affairs of the region.

For more than three decades, oil and global finance drove the UAE's economy.

However, in 2008-09, the confluence of falling oil prices, collapsing real estate prices, and the international banking crisis hit the UAE especially hard.

In March 2011, about 100 Emirati activists and intellectuals posted on the Internet and sent to the government a petition calling for greater political reform, including the establishment of a parliament with full legislative powers and the further expansion of the electorate and the rights of the Federal National Council, the UAE's quasi-legislature.

In April 2011, the Emirati Government arrested four activists - all of whom signed the petition - for their alleged criticisms of the UAE system of government.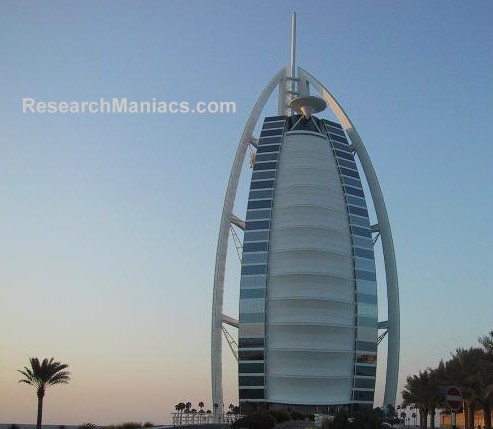 Above picture: The Burj-al-Arab Hotel in Dubai is one of the world's tallest hotels. Its distinctive shape is meant to mimic an Arab dhow (sailing vessel).


---