Kate Upton in Trivia Crack
I got a question about Kate Upton in Trivia Crack!
---
I'm sitting inside, with rain pouring down outside, thumping against my bedroom windows and streaming down the glass. I find my phone and huddle by the fireplace, opening my favorite app of all time, Trivia Crack.

I spin the colorful spinner, answering questions about chemistry, sports teams, and musical terms, most of the time getting them wrong. In between just about every question, this ad pops up, about an app called "Game of War: Age of Fire." The familiar face of Kate Upton confidently rides in on her horse in some of the video ads for the game, and other times she just stares out into the distance, looking all fierce and ready to face anything.


After only a few days of playing Trivia Crack, I'm addicted to it and can't put my phone down for a second! I can recite the exact rules of how to play and which buttons to press where, along with having the capability to recite the entire "Game of War" ad, which just about shares equal screen time with the game itself.

Even so, I patiently wait for the ad to disappear so I can continue playing the best game ever created. So I spin the spinner for the millionth or billionth time, and the spinner lands on entertainment--fantastic, my worst category. I'm on a streak of choosing the correct answer, but now since it landed on entertainment, I have virtually no chance whatsoever of winning the game. Sighing deeply, I wait for the question to load, which only takes a matter of seconds.

As I begin to read the question, that infamous ad explodes onto the small screen of my phone. Kate Upton is looking all high and mighty, noble and strong. Scoffing at the ad, I look carefully as I read the question, and for some crazy coincidence, it asks me, "In which popular ad does Kate Upton now act in?" Well, what do you know, the answer is staring at my face. An ad...within an ad...for an ad?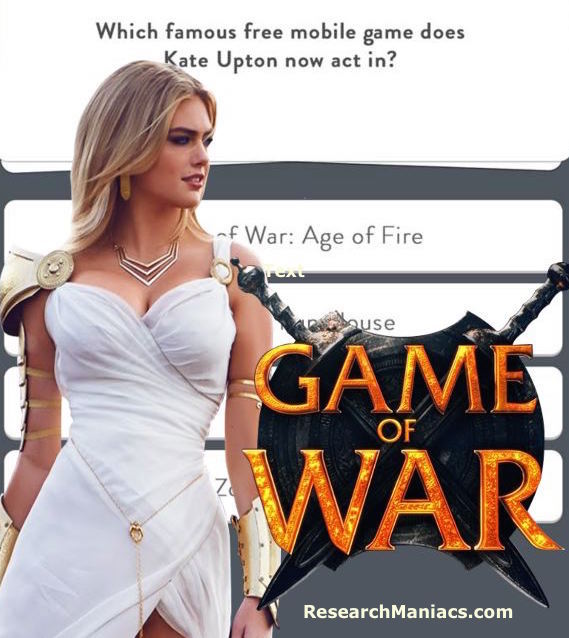 What is up with all these ads? Through my utter confusion, the timer is ticking for me to answer the question, and I confidently tap "Game of War: Age of Fire," realizing that I had once again chose the right answer.




---
Copyright | Privacy Policy | Social Media | Disclaimer | Contact | CMV