How to setup pool balls
Step by step: How to setup pool balls
---
How to setup pool balls. OK, so you lost the game, which means it is your turn to rack the balls. Don't worry; this is how to setup pool balls.
First
, stand on one of the shorter ends of the pool table and place the triangle apex (one of the triangle corners) on the dot. The other two corners should face you.
Second
, place the yellow one-ball on the dot in the corner facing the opposite short side of the pool table.
Third
, put one striped and one solid in each of the other triangle corners. It does not matter which corner is striped and which corner is solid, but make sure that one is striped and one is solid.
Fourth, randomly put the rest of the pool balls in the triangle, but make sure to put the eight-ball in the middle of the third row as displayed in picture below. It is also recommended that you don't cluster solids and stripes as it may give the breaker an advantage.

Fifth, make sure the pool balls are snug by inserting your fingers between the triangle and balls, pushing the lowest row of five balls towards the other balls. Then remove the triangle slowly.

You are ready to play pool!

PS. When you are done, it should look something like this: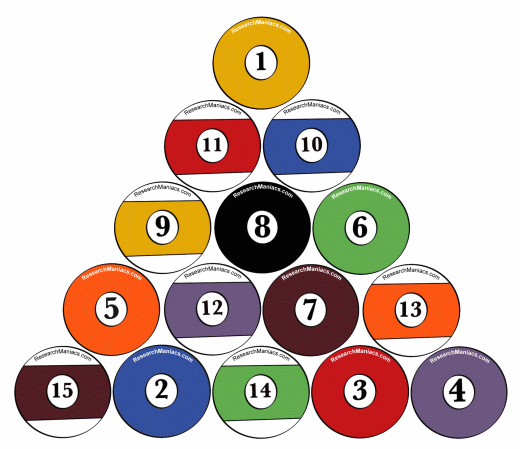 More information
from Research Maniacs:

Pool Ball Facts
Read more useful and interesting pool ball facts here.


---
Copyright | Privacy Policy | Social Media | Disclaimer | Contact | Advertise