---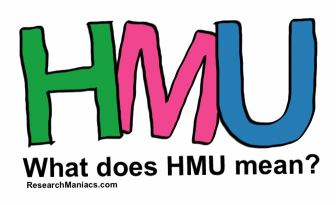 If you Twitter, Facebook or text, you have probably seen HMU, but do you know what HMU means?
If you live in Tempe, Arizona and someone texts you to meet them at HMU, they probably want you to meet them at the Harrison Middleton University.
If you are in Houston, Texas and a person says HMU, they may refer to Houston Metro Urology.
However, for most people HMU means "Hit Me Up."
HMU or 'Hit Me Up' means that the sender wants you to look them up, text them, or call them.
Basically, they are requesting for you to contact them. It is another way of saying Call me, text me, or come see me.
We hope this will make your time on Twitter, Facebook, and cell phone a little easier. At least, now you know what HMU means!
Texting Abbreviations
See more texting abbreviations here.
---
---
Copyright
|
Privacy Policy
|
Disclaimer
|
Contact