Convert Phone Letters into Phone Numbers
How can I convert phone words/letters into phone numbers?
---
Many companies have vanity numbers these days. Instead of giving out the actual number, they give you a word phone number that spell a word like 800-call-today. It is annoying and time consuming to find these letters on the phone keypad and then convert it numbers.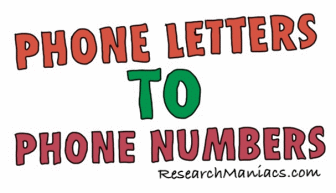 Stop looking for those letters on the telephone keypad and use our phone letters to phone numbers converter below instead.

Please type in the alpha numeric phone number spelled out here:





---
Copyright | Privacy Policy | Social Media | Disclaimer | Contact | Advertise