Thailand
Information about Thailand
---

A unified Thai kingdom was established in the mid-14th century.

Known as Siam until 1939, Thailand is the only Southeast Asian country never to have been taken over by a European power.

A bloodless revolution in 1932 led to a constitutional monarchy.

In alliance with Japan during World War II, Thailand became a US treaty ally in 1954 after sending troops to Korea and fighting alongside the US in Vietnam.

A military coup in September 2006 ousted then Prime Minister THAKSIN Chinnawat.

December 2007 elections saw the pro-THAKSIN People's Power Party (PPP) emerge at the head of a coalition government that took office in February 2008.

The anti-THAKSIN People's Alliance for Democracy (PAD, aka yellow-shirts) in May 2008 began street demonstrations against the new government, eventually occupying the prime minister's office in August and Bangkok's two international airports in November.

After an early December 2008 court ruling that dissolved the ruling PPP and two other coalition parties for election violations, the Democrat Party formed a new coalition government and ABHISIT Wetchachiwa became prime minister.

In October 2008 THAKSIN fled abroad in advance of an abuse of power conviction and has agitated his followers from abroad since then.

THAKSIN supporters under the banner of the United Front for Democracy Against Dictatorship (UDD, aka red-shirts) rioted in April 2009, shutting down an ASEAN meeting in Pattaya.

Following a February 2010 court verdict confiscating half of THAKSIN's frozen assets, the UDD staged large protests between March and May 2010, and occupied several blocks of downtown Bangkok.

Clashes between security forces and protesters, elements of which were armed, resulted in at least 92 deaths and an estimated $1.

5 billion in arson-related property losses.

These protests exposed major cleavages in the Thai body politic that continue to hamper the current government.

The ABHISIT administration has announced a plan for a general election some time in 2011 ahead of its full term by the year-end.

Since January 2004, thousands have been killed as separatists in Thailand's southern ethnic Malay-Muslim provinces increased the violence associated with their cause.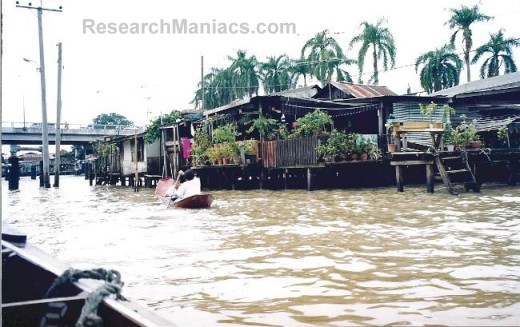 Above picture: Canal view in Bangkok, Thailand.


---
---