Fantasy Name Generator
---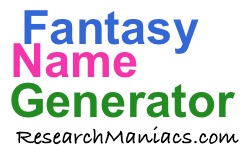 Use our tool below to generate a male or female fantasy name.

The Fantasy Name Generator can generate millions of different names. You can keep pushing the buttons above until you find a name you like.

Unlike other Fantasy Name Generators that only generate one name, we actually give you a first and last name.

The generator is used for many different reasons. For example, authors who are looking for ideas, gamers looking for a good name, and people looking for inspiration use it.

Whatever reason you have for using it, we hope you enjoy our page. We are always working on making the Fantasy Name Generator better. You are welcome to contact us if you have any ideas about how to make improvements.



More information
from Research Maniacs:

Random Information
The information itself is not random, but the topics are related to randomness.


---
Copyright | Privacy Policy | Social Media | Disclaimer | Contact | Advertise