Random Japanese Name Generator
---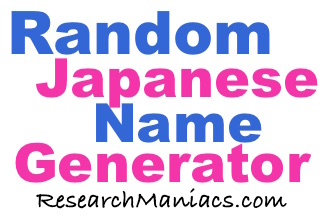 The Random Japanese Name Generator can generate random Japanese names.

Please choose if you want a "Female" or "Male" Japanese name. Each time you press one of the two buttons below, a new random Japanese name will be generated.

This page was created in response to requests from visitors that use our popular What is my name in Japanese? page.

We hope you found our Random Japanese Name Generator fun and interesting to use.



More information
from Research Maniacs:

Fantasy Name Generator
You may also be interested in Research Maniacs' Fantasy Name Generator that you can find here.


---
Copyright | Privacy Policy | Social Media | Disclaimer | Contact | Advertise