Random Last Name Generator
---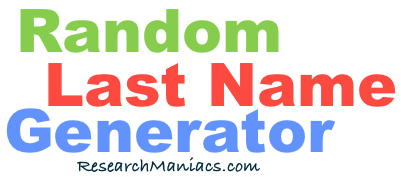 Do you need to generate a random last name? No problem! You have come to the right place to generate a random last name.

You can choose to be a Ms., Mrs., or Mr. Each time you click on a button below a new last name will appear.

You can keep pushing the buttons above until you find a random last name you like. If you keep at it, maybe your real last name will eventually appear.

NEW: Per visitor request, we also added Dr. as a prefix alternative above. We hope you like this addition to our Random Last Name Generator.


---
Copyright | Privacy Policy | Social Media | Disclaimer | Contact | Advertise