Transfer Pictures and Videos from iPhone to Mac
How to transfer pictures and videos from iPhone or iPad to iMac or Macbook
---
Did you switch from Windows to Mac and you are used to the nice and easy way of transferring files with File Manager?

Are you frustrated and confused about using iTunes, iPhone or Photos to transfer pictures off your iPhone and iPad?

Do you not want to deal with sync and confusing questions that make you worry that you will lose all of your pictures?


Do you wish it was as easy as it was on your good old Windows machine? No problem - this is how to transfer pictures to your iMac or Macbook the easy way, in three easy steps:

Step 1) Unlock and connect your device to your desktop or laptop. If your Mac is set to automatically open iTunes and Photos or whatever, then close those programs.

Step 2) Click on the search button (magnifying glass) on the top right of your computer screen and type in "image capture" and then open the Image Capture program that it found.





Step 3) Choose your device (iPhone or iPad) under devices on the left to see all the pictures on that device. Then simply drag those pictures to any folder you want on your computer.


---

If you don't want to mess with dragging and dropping, then simply choose a default directory to "import to" and then press "Import All" at the bottom right.



---

To delete pictures on the iphone, simply highlight them and press the red circle-backslash symbol.



Image Capture Hints:

You can choose a default directory to import pictures and videos to. The pictures you have downloaded to the default directory will have a green check on the pictures. Our default directory here is Desktop:




The only way to de-select or get rid of the green checks is to change the default directory to a directory that does not have that picture in it.

You can make Image Capture your default program at the bottom left as illustrated here: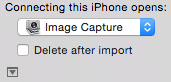 ---
Copyright | Privacy Policy | Social Media | Disclaimer | Contact | Advertise